Ear Acupuncture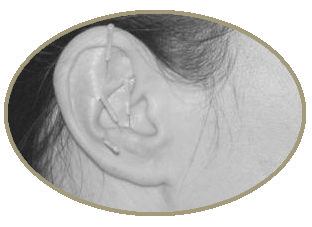 In Traditional Chinese Medicine, the ear is like a micro map of the entire body; various regions and organs of the body are treated via ear acupuncture to get immediate results. Ear acupuncture (auriculotherapy) is a favorite modality used by Francesca Ferrari to quickly relieve pain, to quickly eliminate inflammation, and to quickly reduce fever. Additionally, ear acupuncture is used for the prevention and treatment of chronic conditions.

The ear (auricle) is composed of elastic cartilage, connective tissue, blood and lymphatic vessels, and an abundant amount of nerve vessels. Tenderness, discoloration, and noticeable veins may reveal Qi and Blood stagnation. Francesca observes and palpates aspects of the ear as a tool to diagnosis the body's internal organs.
The Ling Shu notes: "The ear is the place where all the channels meet". Traditional Chinese doctors extrapolated therefore all organs can be accessed via the ear! The external aspect of the ear is a micro map of the entire person. It depicts all the organs, limbs, and physiological systems of the living being. External ear acupuncture has precise acupuncture ear points that treat specific areas of the body. Ear acupuncture is most beneficial for sports injuries and injuries from motor vehicle accidents, even whiplash.

Ear acupuncture was a brilliant discovery of the Chinese doctors that was later replicated and further theorized by the French during their occupation of Vietnam and territories in China. The French now pride themselves for their own system of ear acupuncture for treating health problems ranging from emotional disorders to post operative pain.

Ear acupuncture is also used as a form of acupuncture anesthesia; although ear acupuncture used as an anesthetic is a relatively new development. The use of ear acupuncture is effective for drastically reducing pain and in China it is has been implemented during surgical operations. In Europe, North America, South America, Australia, ear acupuncture is more commonly used for immediately reducing pain, especially of the neck and back.